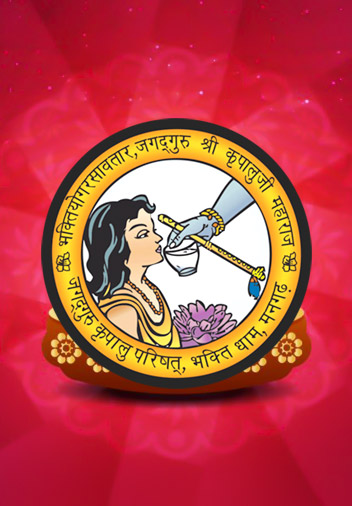 JKP at a Glance
Jagadguru Kripalu Prishat
Jagadguru Kripalu Parishat (JKP), previously known as Sadhna Bhawan Trust, was established in 1970 by Jagadguru Shri Kripalu Ji Maharaj and continues to run today under his divine guidance, with leadership from the three Presidents he appointed.
As a non-profit, charitable, educational and spiritual organisation, dedicated to increasing spiritual awareness, JKP works tirelessly to disseminate the teachings of Jagadguru Shri Kripalu Ji Maharaj throughout the world. JKP is also actively involved in a range of charitable projects and activities. JKP's expansion has been necessary to cater for the growing number of people seeking spiritual guidance and support, in addition to the broader social welfare issues facing people at large. Consequently, JKP is involved in an ever increasing number of charitable activities coinciding with its ongoing spiritual programmes.
A Message From Our Presidents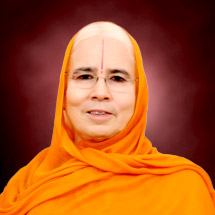 H.H. Dr. Vishakha Tripathi Ji
President - Bhakti Dham, Mangarh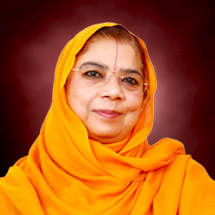 H.H. Dr. Shyama Tripathi Ji
President - Shyama Shyam Dham, Vrindavan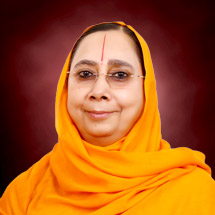 H.H. Dr. Krishna Tripathi Ji
President - Rangeeli Mahal, Barsana
Dear Visitor,
Human beings of the current age (time) do not heed to the welfare of their own souls. They are becoming more and more restless since they consider themselves to be the physical body and thus, are running after the material world just in order to obtain transient happiness.
"In such a materialistic world, Jagadguru Shri Kripalu Ji Maharaj is paving the path to peace by binding everyone with the thread of universal brotherhood, through His message of Divine love to the entire world. At the same time, He has paved the path for both physical and spiritual welfare of the individual souls by establishing a large organisation like Jagadguru Kripalu Parishat."
The organisation has been rendering social services through various social activities performed at a regular basis. The organisation is endeavouring various praiseworthy works in the fields of medicine, education, and for the welfare of women and upliftment of society at large.
Several constructions are being carried out under the auspices of the organisation; a huge sadhna (meditation) hall in Mangarh, a charitable hospital, as well as another grand sadhna hall in Vrindavan, and Kirti Mandir in Barsana. All the construction work are not only going to be beneficial in the future, but also has been providing employment to thousands of local labourers.
We seek the blessings at the lotus feet of Radha Krishna and our Gurudev Jagadguru Shri Kripalu Ji Maharaj to provide their divine guidance in carrying forward the spiritual and humanitarian works of Jagadguru Kripalu Parishat.
Yours,
Vishaka, Shyama & Krishna
Accomplishments
Jkp has continually expanded to cater for the spiritual needs and the social welfare of mankind at large. Since its foundation jkp has:
Established Four Main Ashrams

Bhakti Dham – Mangarh, Shyama Shyam Dham – Vrindavan, Rangeeli Mahal – Barsana and Radha Govind Samiti Golok Dham – New Delhi. All four ashrams are actively involved in various spiritual activities for the welfare of spiritual aspirants. Throughout the year, these ashrams conduct various philosophical discourses, devotional chanting, spiritual camps and retreats, and also organise celebrations of various festivals.

Established Three 100% Free Hospitals

These hospitals are in North India and are equipped with modern technologies, where all medical treatments, hospital facilities and required medications are provided free of cost to each and every patient. In addition, free medical and health awareness camps are conducted regularly. JKP also provides financial aid, medicines, and emergency medical services as and when required.

Set Up A 100% Free Educational Institution

JKP runs a 100% free secular educational Institution to enhance literacy and provide quality education to the deprived. The Institution has three levels – primary school, intermediate college and a university, where all students receive their education completely free, and also receive free uniforms and other school related requirements.

Coordinated Free Distribution Programs

JKP coordinates various social, philanthropic and humanitarian activities to provide relief to the poor through free distribution programs, including distribution of hand-driven tri-cycles, clothing, blankets, food, etc.

Funded Natural Relief Programs

JKP also raises funds to contribute in national relief programs which provide emergency aid to victims of natural disasters and tragedies.
At all our Ashrams and Centers, we have every Morning and Evening devotional program which include Prayer, Aarti, Homage, Sankeertan of Name, Virtues and Leelas of Radha Krishna and video and audio speech revealing the devotional and divine secrets of our Scriptures, Upanishads, Bhagvad Gita and Shreemad Bhagwatam etc.
Every year we have special Sadhna programmes in our Centers where devotees from all over the world come and attend the devotional programs which are especially designed to elevate their consciousness of Divine Love.
VIEW GALLERY
Mandirs & Ashrams
Jagadguruttam Shri Kripalu Ji Maharaj built four great temples - Bhakti Mandir in Mangarh, Prem Mandir in Vrindavan, Radha Madhav Dham in Austin, Texas and Kirti Mandir in Barsana. Kirti Mandir will open in February 2019. These great monuments are dedicated to Shri Radha Krishna who is the same as Shri Sita Ram. Everyone is welcome to see these amazing mandirs and feel the love of God so greatly embedded within them.
Know More
Bhakti Mandir, Bhakti Dham
Bhakti Dham is the birthplace of Jagadguru Shri Kripalu Ji Maharaj. It is situated in a small village called Mangarh in Pratapgarh district between Ayodhya and Prayag (Allahabad), Uttar Pradesh, India. In order to benefit those souls desiring God's love, Jagadguru Shri Kripalu Ji Maharaj founded The Ashram in Mangarh in 1966 . This once unknown and quiet village has been attracting faithful souls ever since.Over the years, the ashram has steadily expanded to accommodate thousands of devotees who come to experience the extraordinary devotional atmosphere.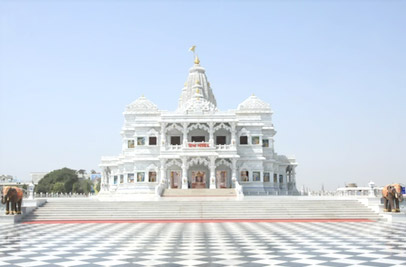 Prem Mandir, Shyama Shyam Dham
Vrindavan is situated on the southern bank of the holy Yamuna River in Braj, Mathura district, Uttar Pradesh. Today it is one of the most important pilgrimage places in India for devotees of Radha Krishna. The Satsang Bhavan in Shyama Shyam Dham was inaugurated by Jagadguru Shri Kripalu Ji Maharaj in 1993 . JKP Shyama Shyam Dham is also the home to Prem Mandir and Jagadguru Kripalu Chikitsalaya, a 100% free charitable hospital run by JKP.
Kirti Maiya Mandir, Rangeeli Mahal
In this holy land of Barsana, with the grace of Jagadguru Shri Kripalu Ji Maharaj, Rangeeli Mahal was founded in 1996 . The stunning grounds have beautifully landscaped gardens, waterfalls and depictions of Radha Krisha leelas, amongst other attractions.JKP Rangeeli Mahal is also home to Kirti Maiya Mandir and Jagadguru Kripalu Chikitsalaya – a 100% free charitable hospital run by JKP.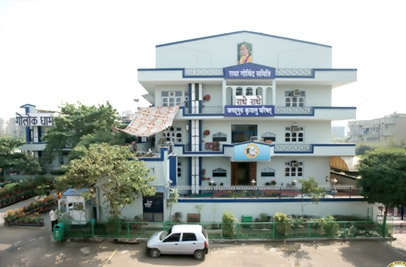 Radha Govind Samiti, Golok Dham
Golok Dham is centrally located in Delhi and has created an enhanced devotional atmosphere which provides an escape for people from their busy urban lifestyles, as well as those devotees who have travelled long distance to visit our other ashrams and are in transit in Delhi.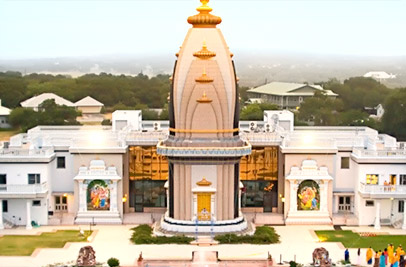 Radha Madhav Dham, USA
Radha Madhav Dham is the largest Hindu temple and ashram complex in the United States. With the Gracious blessing of Shri Jagadguru Kripalu Ji Maharaj, Radha Madhav Dham was established as the main ashram of Jagadguru Kripalu Parishat in the West. The rolling land, blanketed by wildflowers in the spring, and beautified by the meandering stream Kalindi, rises to the highest point in Hays County at the top of Barsana Hill. The temple and ashram buildings are surrounded by charming gardens, walking paths, fountains and ponds. The delightful landscape lends itself to leisurely walks and meditation in its serene holy places.
Awards : Acheived By Jagadguru Kripalu Parishat
Many awards conferred to Jagadguru Kripalu Parishat, led by its president Vishakha Tripathi, in recognition of its work in the field of education, healthcare and philanthropy. These award are given to individuals and organizations for significant contribution in the field of economic and social development in india.
Jkp is providing free, secular education to the deprived and minorities. More than 5,000 girls from pre-primary to post graduate levels receive free education at its institutions in Pratapgarh, Uttar Pradesh. "In addition to education, the parishat also runs three hospitals to extend free healthcare to the poor and the needy, including free surgery and post-operative care. It also works throughout the year for supporting destitute widows.
In the past, the institution has received the Rajiv Gandhi Global Excellence Award, World Icon Award, "Swasth Hindustan" award,  the Nari Shakti Award, Mother Teresa Excellence Award and Nelson Mandela Award for exemplary work in education and healthcare.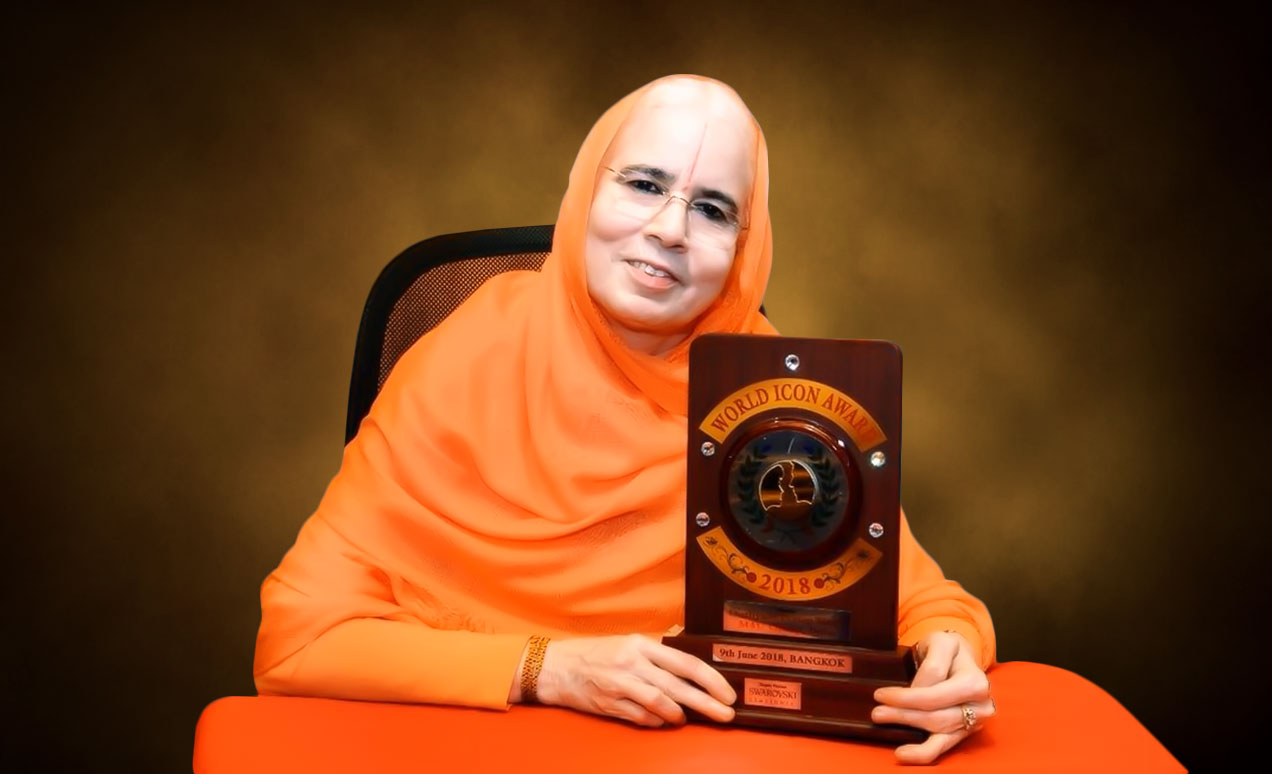 Free JKP Hospitals
There are many rural areas in India where proper medical facilities are not available and even if there are some health centers available, majority of the people cannot even afford the cost of basic treatment, medications and other services provided by such health centers. Hence, they are deprived of proper health care and suffer terribly.
These hospitals are equipped with state of the art imaging and laboratory equipments and an in-house 24-hour pathology laboratory. The expense incurred for In-Patient Services, Out-Patient Services, Medicines, X-Rays, ECG, Ultrasound, Pathology Investigations, Surgeries, etc. are all borne by JKP, thus providing all medical services to its patients completely Free of Charge.
Jagadguru Kripalu Chikitsalaya – Mangarh village is situated in Pratapgarh District, Uttar Pradesh and was Inaugurated on 5th November 2003, by the then UP Governor, Dr. Vishnukant Shastri. Jagadguru Kripalu Chikitsalaya – Barsana village, in Mathura District, Uttar Pradesh, was inaugurated on 14th January 2007. The third hospital in Vrindavan was inaugurated on September 18, 2015.
Know More
Free Secular Education
Kunda, situated in district Pratapgarh, Uttar Pradesh, is one of the lowest ranking regions for literacy in India. The majority of families are in an enormous struggle merely to survive. To get a job to have a decent life and hope for a bright future is something beyond their understanding and imagination. Given this economic condition, educating girls is the least of their priorities and hence neglected.
To get a decent job to have a decent life and hope for a brighter future is something far beyond from their understanding and imagination. As a result, complete education for daughters is rarely, if ever considered by most families. Keeping this in mind, Jagadguru Kripalu Parishat (JKP) has established a Charitable Educational Institution for Girls which provides 100% Free Education to all students.
JKP Education's objective of offering education for free, has resulted in an institution which has become a guiding force for the educational upliftment of not only the underprivileged girls living in this region, but also the surrounding communities. In addition to receiving free education, students receive free transportation, including free distribution of bicycles to those students who travel long distances.
Know More
Philanthropic Activities
Jagadguru Kripalu Parishat is also involved in various philanthropic and humanitarian activities. JKP has been assisting and providing relief to the poorer sect of society since its establishment. Throughout the year, in addition to monetary assistance to the poor, underprivileged and the disadvantaged, many distribution programs are organized by the organization.
JKP endeavours to help and support as many individuals and families as possible, who suffer from exceptional circumstances and tragedies, with their specific needs and requirements. Every year Sadhu Bhoj (For Saints) and Widhwa Bhoj (For Widows) for Thousands of Sadhus and Widows respectively are organized. Thousands of Saints and Widows are able to come and take advantage of this generous yearly effort.
Know More
"Every auspicious action should be performed with humility and while constantly remembering that
God alone is our all‐in‐all."