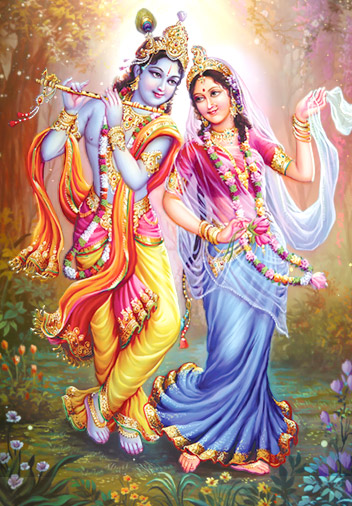 About Us
RadhaGovind
Public Charitable Trust
The RadhaGovind Public Charitable Trust and its parent organization Jagadguru Kripalu Parishat carry out numerous beneficial activities of charity and human welfare. Under guidance of Sushri Shreedhari Didi Ji, RGPCT undertakes various Social, Educational and Health activities round the year to help the poor and less fortunate to generate awareness and illuminate the people towards realization of human values and development of mind and thoughts.
Our weekly Satsangs (devotional programs), special celebrations are organized on all major Hindu festivals. Family camps and devotional retreats are all aimed at enhancing your understanding of the significance of your human birth and utilizing it for attaining Shri Radha Krishna – the ultimate form of Divine Bliss.
Real Meaning Of Charity
"To give away money is an easy matter in any man's power, but to decide to whom to give it, and how large and when, and for what purpose and how, is neither in every man's power nor an easy matter."
Choosing to donate your money to charity is a laudable decision,
but it is important to give to charities that do the most good with their money."
"If there be any truer measure of a man than by what he does, it must be by what he gives."
Wealth is not to feed our egos, but to feed the hungry and to help people help themselves.
Aims & Objectives

Vedic Knowledge
To guide humanity towards betterment in accordance with timeless Vedic Philosophy.

Social Upliftment
To conduct various Philanthropic and Humanitarian activities which are beneficial for the society.



Spiritual Welfare
To guide all towards the attainment of divine love by propagating a philosophy of harmony between Materialism and Spirituality.
Devotional Activities
To organize spiritual camps and retreats that demonstrate practical devotion to spiritual aspirants.

Education To All
To provide Free Education to poor, blind and needy people.

Medical Camps
To organize blood donation camps, eye camps, help blind and disabled persons.
RGPCT's Core Team And Elite Members:
Sushri Shreedhari Didi Ji, The 'founder' is the 'Managing Trustee' (Chairperson) of RadhaGovind Public Charitable Trust, Jaipur and in that capacity, She has nominated Shri Gajanand Parwal (Vice President), Shri Sharad Gupta (Chief Secretary), Shri Sunil Sharma (Treasurer), Shri Gopal Lal Gupta (Unit Head Coordinator), Smt. Saroj Chaturvedi (Unit Head Coordinator), and Smt. Divya Parwani (Unit Head Coordinator) as other trustees.
As a leader, only His Holiness Jagadguru Shri Kripalu Ji Maharaj will be and remain forever the Supreme Guru of all the trustees. Therefore all the trustees are working under the guidance established by Shri Maharaj Ji. To date, the Trust comprises of 400 members who are assisting this Trust to achieve its aims and objectives. There is no doubt that RGPCT is what it is Today due to its dedicated team of volunteers spread across the capital of Rajasthan.
Activities of Our Trust
The Trust was established by Sushri Shreedhari Didi Ji in the Year 2008. In it's 10 years of service period, the Trust is quickly gaining popularity in JAIPUR city and nearby areas. The Trust is associated with other Social Trusts and Societies to help them financially in their respective social causes. For social welfare, our Trust is helping other Organizations/ Trusts/ Societies.
Under guidance of Sushri Shreedhari Didi Ji, The RadhaGovind Public Charitable Trust carries out numerous beneficial activities of charity and human welfare. We work to take up Medical, Social Welfare, Relief Work or any such project or activities that are found essential from time to time for general public utility.
We distribute Foods, Food Items, Medicines, Computers, Books, Utensils, Blankets, Cloths and other useful items to needy and poor section of society. We also help Blind and Disabled Persons, Poor Children and provide financial aid for helpless animals as well. We organize Blood Donation Camps, Eye Camps and other social upliftment camps.
VIEW GALLERY
Charitable Works
RadhaGovind Public Charitable Trust, in conjunction with Jagadguru Kripalu Parishat, provides assistance to the poor and underprivileged. Free distribution programs are also regularly organized by Jagadguru Kripalu Parishat in various locations like Mangarh, Vrindavan and Barsana.
These activities include free meals for poor villagers and patients. Hand-driven tricycles, cloths & blankets along with various other daily essentials are also distributed for free on a regular basis. The mission also regularly contributes to the National Relief Fund to assist natural calamities.
Computer Education For Visually Impaired Students
RadhaGovind Public Charitable Trust, Jaipur in collaboration with Rajasthan Netraheen Kalyan Sangh, Jaipur , is running a project of Computer Training for the visually impaired with the help of available adaptive technologies.
This is to enable visually impaired students to acquire computer iteracy and lay a foundation for pursuing innovative Information Technology related job options at appropriate time.  Preparing them to build their success story through technology aided education.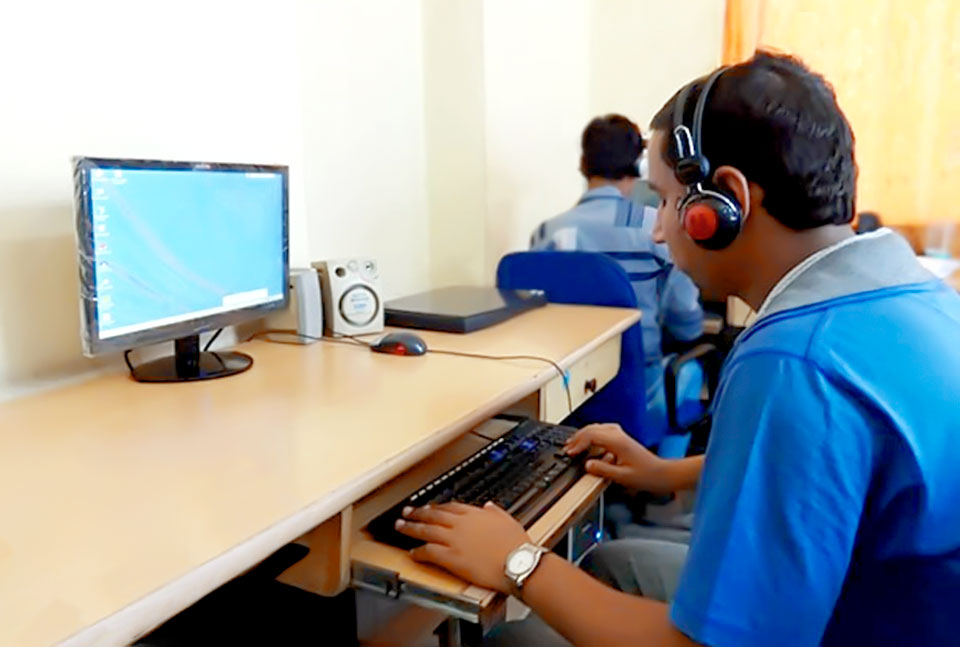 Devotional Activities
The Trust objectives aim at the Devotional Upliftment of mankind through the teachings and knowledge inspired by Vedas, Upnishads and so on. We plan and organize discourses, Sankeertan programmes, other occasional programmes and events related to local festivals etc. linked with the ancient culture and social heritage of BHARAT-VARSH.
The aim of the Trust is to educate the common man about the ethics and values of true Sanatan Vaidic Dharm so that they may achieve a state of mental peace and harmony. This would make our world a better place to live. Therefore, we adopt modern means for propagating the works of the Trust, Publish Books, Literature, Magazines, CD's, DVD's etc.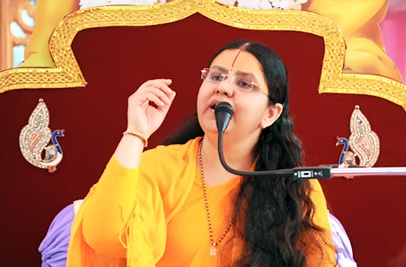 Lectures
From time to time, Sushri Shreedhari Didi Ji delivers public speeches where thousands of people gather to listen to Her divine lectures. She simplifies even the most perplexing instructions from the scriptures with great ease and clarity and discloses guidelines to the general public on "How to attain their ultimate goal of human life." These speeches are not only beneficial for the general public, but they also help deepen the wisdom and knowledge of a devotee which in turn promotes devotion in their hearts.
Sadhna Shivir
Sadhna Shivir is a devotional camp in which the devotees disconnect themselves from their regular material world and isolate themselves to practice absorbing their mind in God, and to perform selfless service to God and Guru. Our trust organises devotional camps at various places for varied durations. The devotees follow the guidelines provided by Sushri Shreedhari Didi Ji while engaging in devotional practice. Didi Ji also gives lectures, explanations, etc, to address various aspects of devotion during these camps.
Keertans
There are nine methods for developing your attachment to God. Out of these, one is keertan or chanting: Externally singing God's names, pastimes, or attributes while internally practicing loving remembrance or Roopadhyan. Like public speeches Didi Ji conducts many keertan programs every year.
Keertans, sung by Didi Ji let the hearts feel deep longing of Divine Love and real affinity to Lord Krishna.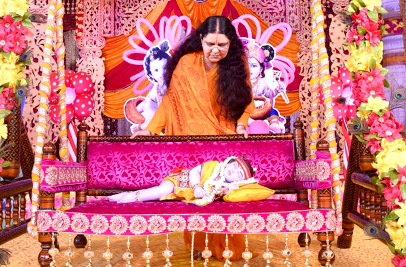 Festivals
Didi Ji explains that the only purpose of celebrating all the social and religious festivals and occasions is to renounce the mind from the material world, while engaging in devotion to Radha Krishna. At times, Didi Ji explains the origin of festivals and at other times she instructs a new devotional aspect, making every festival and celebration an opportunity to integrate devotion in our lives and progress in the path of God Realization.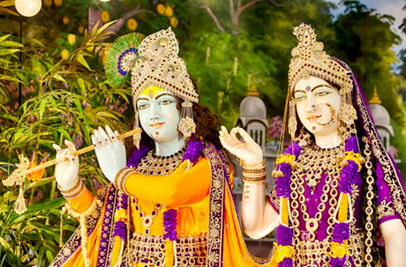 Selfless Service
In addition to engaging in devotional and spiritual practices, Didi Ji teaches and encourages devotees to perform physical and monetary service. Indulging oneself into selfless activities and services brings the instant of inner bliss and happiness. It is the doorway to spirituality that starts with service towards the creation of God, the humanity. Didi Ji guides to treat everyone with respect and compassion as a service to God.
Support Us
These activities are an expression
of the Grace and compassion of Shri Maharaj Ji
upon the souls of the world.